Intorduction
Kingdom Valley Islamabad is an extraordinary real estate development that is part of the Naya Pakistan Housing Program. Additionally, there are several compelling reasons to invest in kingdom Valley. This economically sound and reasonable housing society offers low-cost housing at an affordable price. Kingdom Valley is located adjacent to the Chakri Interchange on the main Chakri Road. Additionally, it is located near the Lahore-Islamabad M-2 Motorway. As a result, this article discusses various reasons why you, as an investor, should consider investing in Kingdom Valley.
Exceptional Location
Typically, location is the most critical factor in the investment decision-making process. A prime and ideal location provides an increased sense of security and proximity to essential utilities. As a result, Kingdom Valley enjoys an advantageous location. It is located adjacent to the Chakri Interchange and the Lahore-Islamabad Motorway on Main Chakri Road. Additionally, the housing scheme is located just a few minutes from the New International Airport. Additionally, the location is close to notable residential developments such as Blue World City, Top City1, and Mumtaz City.
Nearby Landmarks
Additionally, nearby landmarks include the following:
Rawalpindi Cadet College Rawalpindi Ring Road Bahria Town Islamabad Thalian Interchange located on the Lahore-Islamabad Motorway Chakri Interchange located on the Lahore-Islamabad Motorway M-2
The map below illustrates the remarkable housing society's precise location: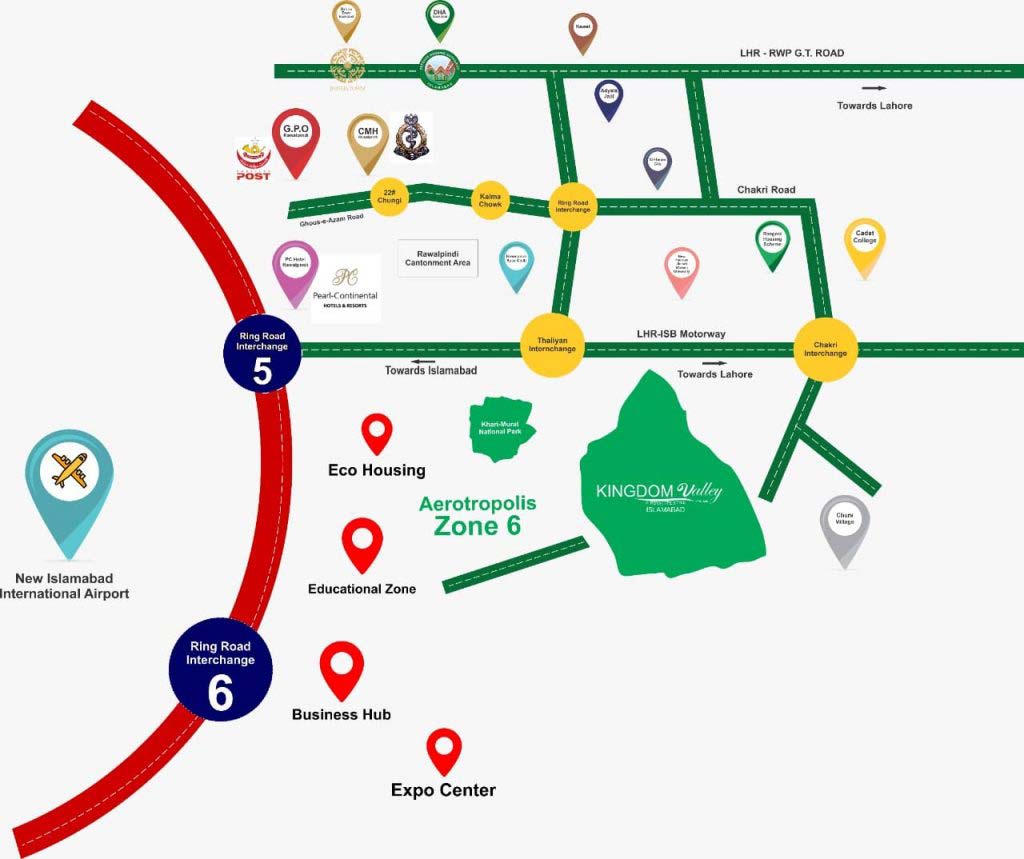 NOC Approved Society
NOC is an abbreviation frequently used to refer to the no-objection certificate that housing schemes must obtain from authorities to become legally recognized. Kingdom Valley Islamabad is an entirely legal housing society with a 103-acre site approved by the Pakistan Housing and Town Planning Management and the Punjab Housing and Town Planning Agency (PHATA). The NOC was approved as part of the Naya Pakistan Housing Program and bears the reference number DRG/PHATA/2176-2021. Additionally, NOC approval is one of the reasons to invest in Kingdom Valley because it ensures that investors will not face any future legal obstacles or issues. Further, since society has its authorization, property values have increased, and the real estate professional anticipates that rates will continue to rise in the future. However, now is an excellent time to invest in Kingdom Valley.
Housing on a Shoestring
Kingdom Valley is one of the few residential developments in Pakistan that provides excellent value for money. Additionally, the valley project is not only a top-tier housing development, but it is also cost-effective when features, amenities, and relative costs are considered. The housing project is currently in its infancy. It provides investors with extremely affordable pre-launch rates, which explains why the payment structure is so straightforward at the moment. Additionally, this is a reason to invest in Kingdom Valley, as it is part of Imran Khan's Naya Pakistan Housing Program. The housing program is an accurate developer-led model that aims to subsidize land so that property developers can build more housing; it also includes a set percentage of affordable housing.
Reasonable Prices
As a result, the expectation of a high rate of return and the forecast of rapid growth make this society one of the best real estate investments currently available. However, the reason to invest in Kingdom Valley is that the rates may not remain as low as they are now as the development stage progresses. As a result, the plot's value increases, and the return on investment is high. The payment plan below illustrates why this housing project is the best value for money.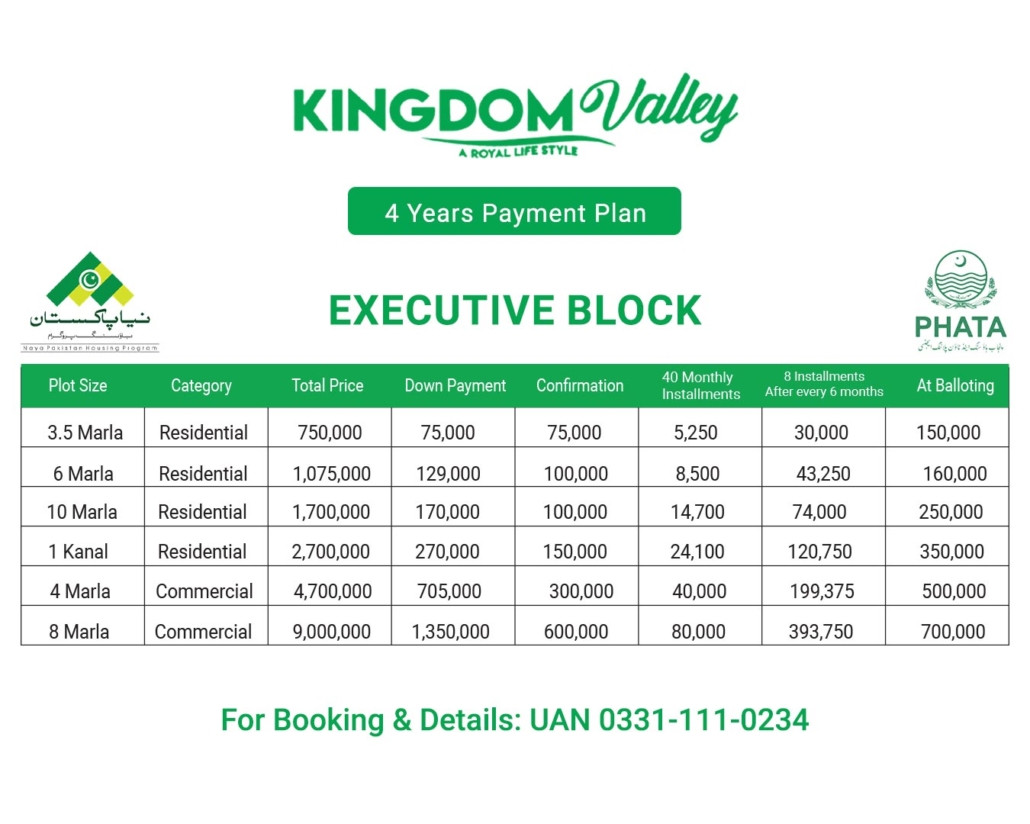 Everybody has the Chance to Live
The land in Kingdom valley is subdivided into five distinct sections. Residential, commercial, international farmhouses and villas are all available. Additionally, the residential plots provide a suitable living opportunity for modest residents with 5 Marla, 8 Marla, 10 Marla, and 1 Kanal plots starting at just PKR 975,000/-. Similarly, there are commercial plots for investors, farmhouses for spending quality time with family, and villas for abundant living. The variety of living options combined with plot sizes expands the opportunities for small and large-scale investors and residents.
Exceptional Amenities in a Gated Community
Another reason to invest in Kingdom Valley is that it provides superior security and facilities for Federal Capital residents. Additionally, it is completely secure due to double boundary walls, CCTV cameras, security guards, and regular security checks. Additionally, the residential society provides residents with some of the best facilities and amenities available. These include a grand mosque, proximity to the best educational institutions, a theme park, uninterrupted access to essential utilities, adequate healthcare, and remarkable infrastructure development.
Scope of Expansion
With a land area of approximately 15000 Kanal, Kingdom Valley Islamabad has immense potential for expansion. Additionally, the development creates new business opportunities and acquisition opportunities. As a result, investors plan ahead of their objectives and target the area, and you should do the same to remain competitive.
Conclusion
As demonstrated in the article above, there are numerous reasons to invest in kingdom Valley. Investors should consider Kingdom Valley critically and then support, as it represents an excellent opportunity. Additionally, before investing, a few tips include verifying all documents and visiting the property's location. Additionally, Kingdom valley real estate professionals are happy to provide additional real estate guidance.
https://kingdomvalleyislamabad.pk/wp-content/uploads/2021/11/Reasons-to-Invest-in-Kingdom-Valley.jpg
386
1030
admin
https://kingdomvalleyislamabad.pk/wp-content/uploads/2022/02/Logo-1.png
admin
2021-11-11 12:30:43
2021-11-24 10:42:29
Reasons to Invest in Kingdom Valley